Connect with customers, raise brand awareness, generate leads, and more with effective social media management. There's no better time than now to commit to putting the appropriate tools in place if you're ready to take your brand or business to the next level.
We've prepared a detailed list of the best social media management tools in the industry to make things easier for you. We've chosen the top tools from a range of areas, and depending on the size of your company, you might wish to invest in multiple.
Analytical Tools
Any successful social media strategy must include analytics monitoring. Here are some of the best analytical tools to assist you in doing so:
Followerwonk
Followerwonk is a fantastic analytics tool that will help you grow your Twitter following, boost your Twitter followers, and most importantly, gain more targeted Twitter followers. By scanning profiles, comparing users, tracking followers, and classifying them, this application is designed to identify, evaluate, and maximize Twitter followers.
Features of Followerwonk
View Social Authority Rankings
See Followers and Their Locations
Compare Follows/Followers
View Follower Losses and Gains
Maximize Times to Tweet
Know When Followers are Active
Pricing of Followerwonk
If you only have one profile, you can use Followerwonk for free, otherwise, you may pay $29/month for the target version or $79/month for the multitask version.
Sotrender
Sotrender is a social media analytics & reporting tool dedicated to track organic and paid social media results. To get started, you just need to add selected profiles, and all the data will soon be downloaded and organized in your panel.
In Sotrender, you can analyze all key metrics that matter to your social media presence and business performance. What is more, you can compare your results to competitors to adjust and improve your social media strategy. This applies to both organic and paid content, as Sotrender enables you to compare campaign results, too, offering more in-depth insights than native solutions.
On top of that, Sotrender provides really fast and smooth reporting which helps to save a lot of time each month. Reports can be generated in a few different formats, they are comprehensive and well-structured. You'll appreciate them especially when needing to sum up and discuss your social media results with colleagues and a boss.
Features:
Easily accessible marketing data: reach, engagement, users demography, comment sentiment, content overview and more
Key Facebook, Instagram, Twitter and YouTube metrics in one place, including historical data
Quick, extensive reports that help to visibly optimize a marketer's working time
Possibility to benchmark organic or paid company results against selected competitors or the whole industry
Insights into competitors' monthly ad spend and campaign goals
Pricing:
14-day free trial with no credit card required
$34/month - 1 profile, 1 user
$59/month - 5 profiles, 5 users
$110/month - 10 profiles, unlimited number of users
$195/month - 20 profiles, unlimited number of users
$331/month - 40 profiles, unlimited number of users
Twitter Analytics
Because everyone with a Twitter account can use it, this social media platform is ideal for businesses. In essence, Twitter Analytics allows you to assess and measure the success of your campaign by looking at interaction, how users interact with your account, and adjusting your marketing efforts as needed.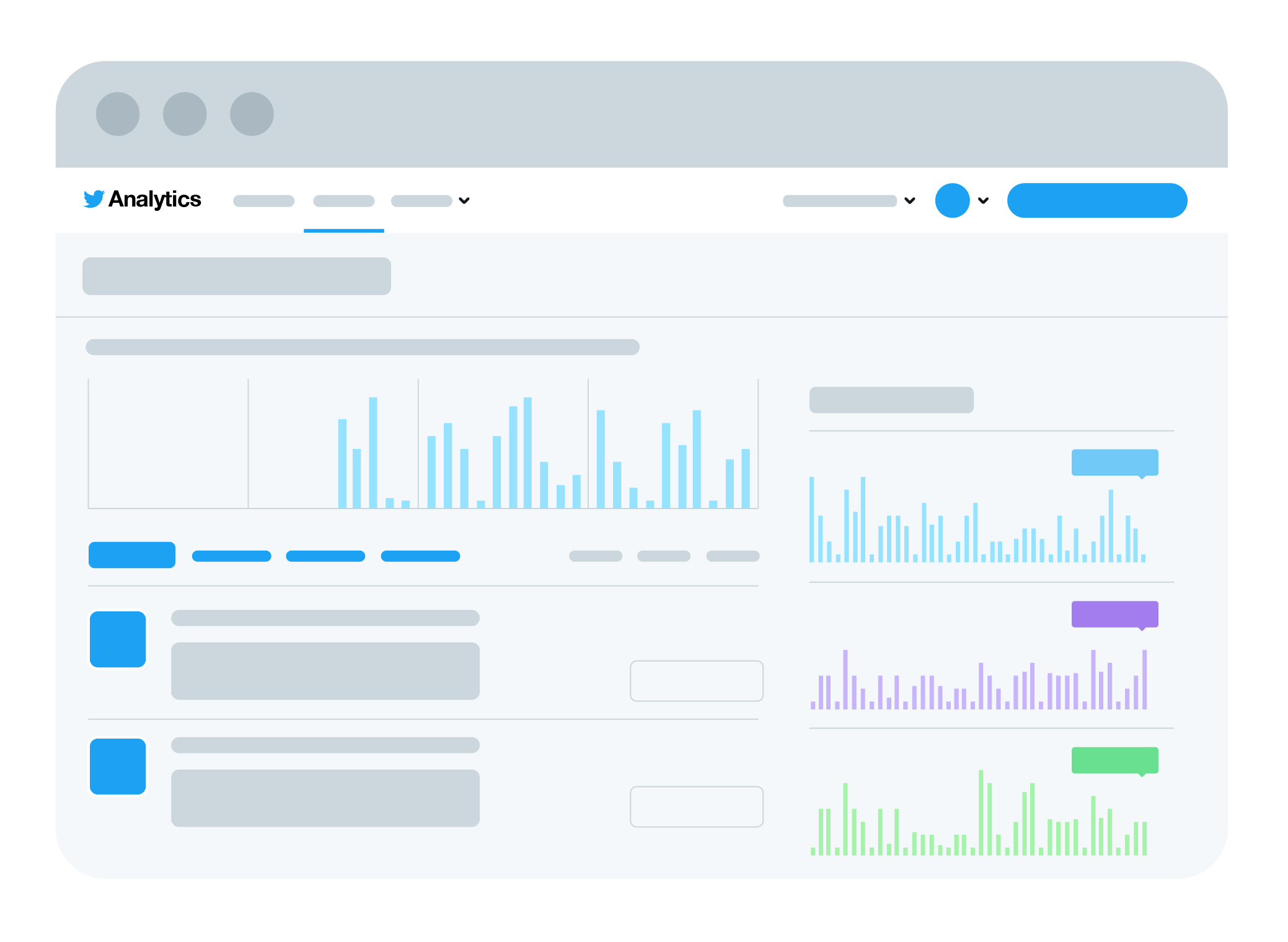 Features of Twitter Analytics
You'll see a list of all your Tweets, as well as the amount of impressions, in the Tweets area.
you can see recent months or a 28-day cumulative impressions summary.
Your primary analytics dashboard will show your top Tweet and top media Tweet each month (by impressions)
You might also run a follower campaign to attract new, active followers.
At the top of your stats, you can see how many people have visited your Twitter profile. dashboard.
Content Curation Tools
Businesses can use content curation technologies to share relevant and quality material. Here are a few of the industry's best content curating tools.
Bulkly
Bulky will eliminate the process of spending hours each week copying and pasting your evergreen updates to social media. Set them up once, and have your posts rotated automatically for you with Bulkly.
There are various ways to add content to Bulkly. Among them are CSV uploads, importing from Buffer, using RSS feeds and more.
Perhaps the biggest time save offered is the ability to automatically create multiple social media updates from a single blog post URL. Simply, paste in your blog link and Bulkly will recommend dozens of updates for you to use.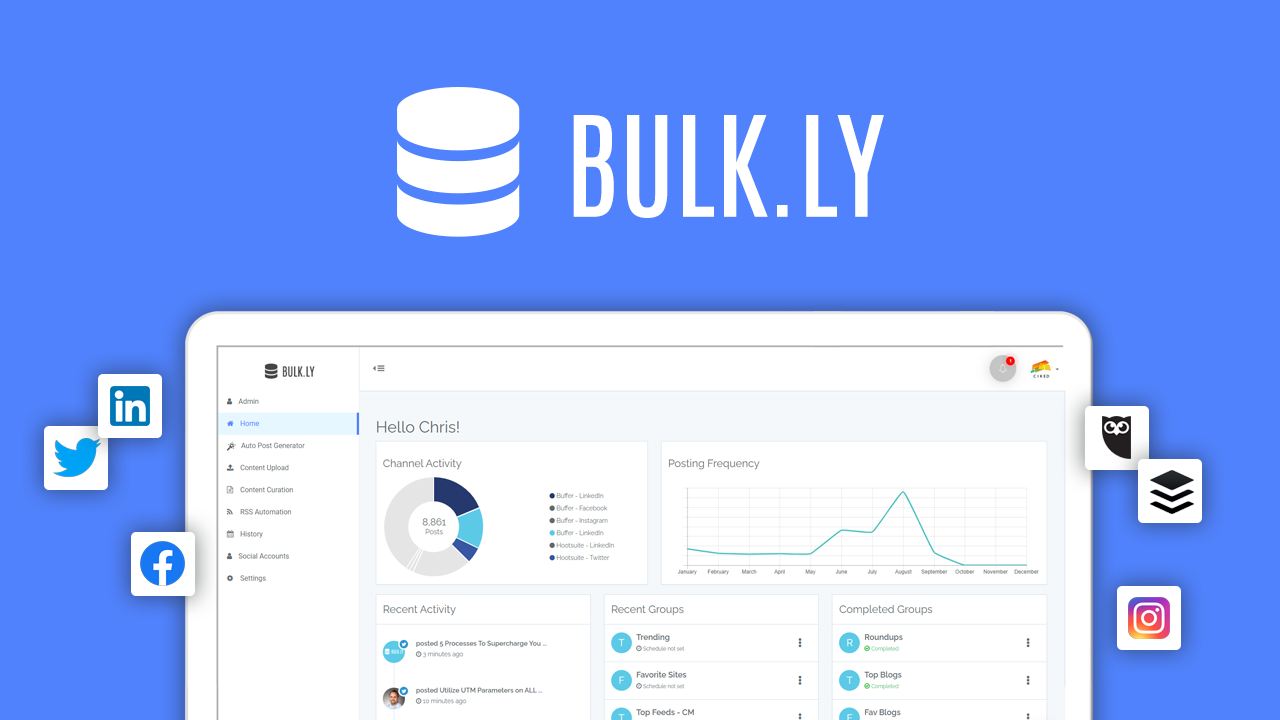 Features of Bulkly
Schedule & recycle social media updates in bulk
Create dozens of status updates from a single URL - automatically
Works with Buffer, Hootsuite, Facebook, Instagram, LinkedIn & Twitter
Randomize the order updates are sent
Avoid sending the same post too soon
Schedule your updates to drip to your social media accounts multiple times per hour, day or week
Create schedules that start and stop on certain dates
Organize your updates into groups with unique schedules and settings
Pricing
Bulkly monthly pricing are as follows (save 20% when paying yearly)
Pro - $19/mo
Pro Plus - $39/mo
Pro Plus Agency - $149/mo
Buffer
Buffer is a fantastic social media tool for scheduling posts across a variety of networks, automating postings, and analysing the metrics of those posts.Buffer allows you to make the most of your most active moments on social media by establishing unique, personalised social media calendars for each profile you own. You can establish one custom schedule per platform as a Publish Free plan user, which will help you optimise timing overall.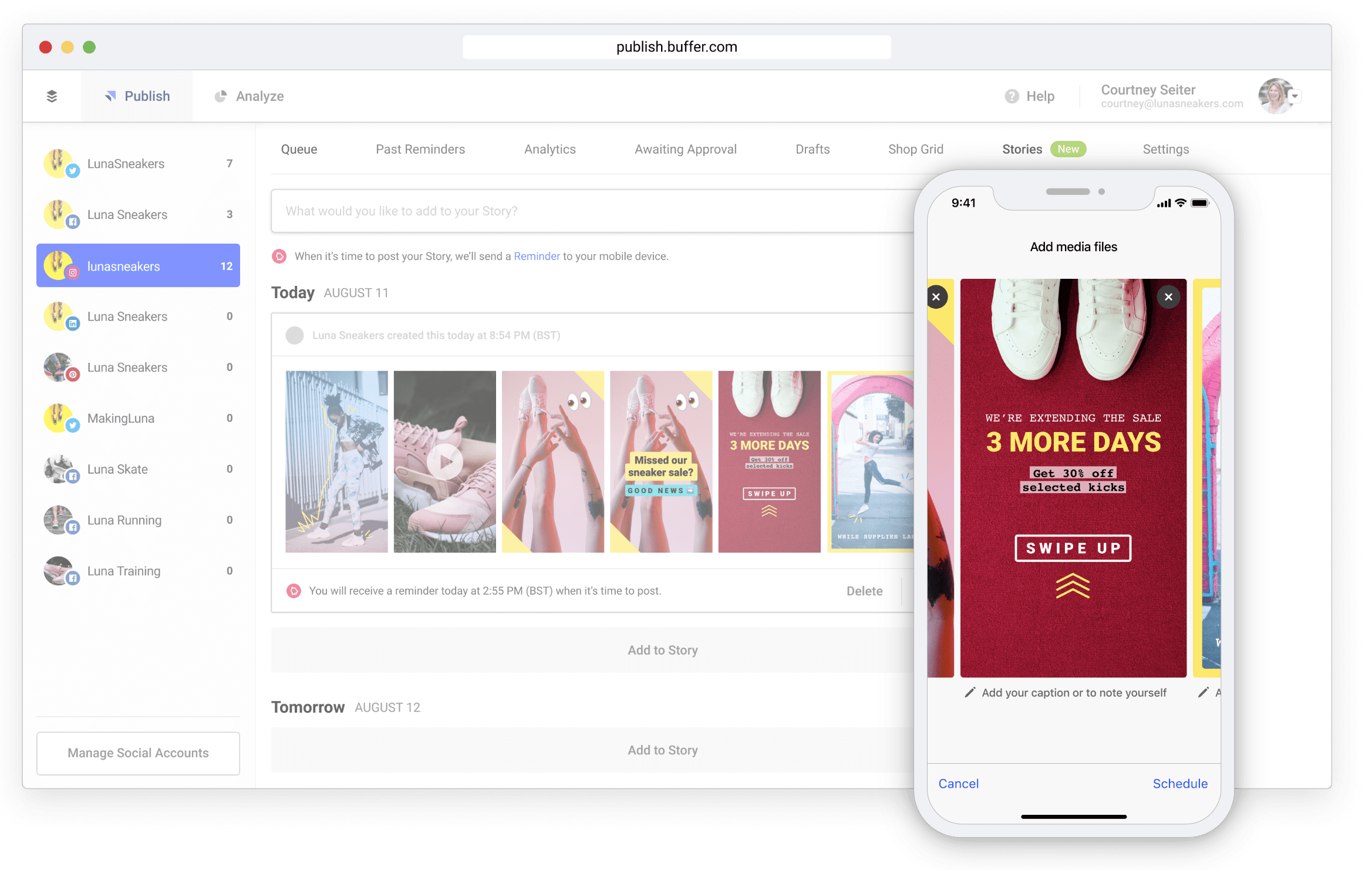 Features of Buffer
Share faster with Buffer's browser extension
Clip and queue text and images as you find them
Send your tweets at the perfect time
View, track, and recycle your top-performing posts
Check and compare your most important metrics
Pricing of Buffer
Buffer offers a free version with basic publishing tools, or you could upgrade to the essentials plan for $5/month.
Pro tip: You can also explore Buffer alternatives to strengthen your social media game.
CircleBoom
Circleboom offers advanced Twitter account analytics, follower/friend demographics, tools to identify fakes, spammers, and inactive accounts, as well as clever search tools to locate new peers with similar interests. It is also known as the best tweeter deleter tool users use to clean up their Twitter accounts by removing tweets, retweets, likes, or the whole Twitter archive using Circleboom Twitter's built-in capabilities.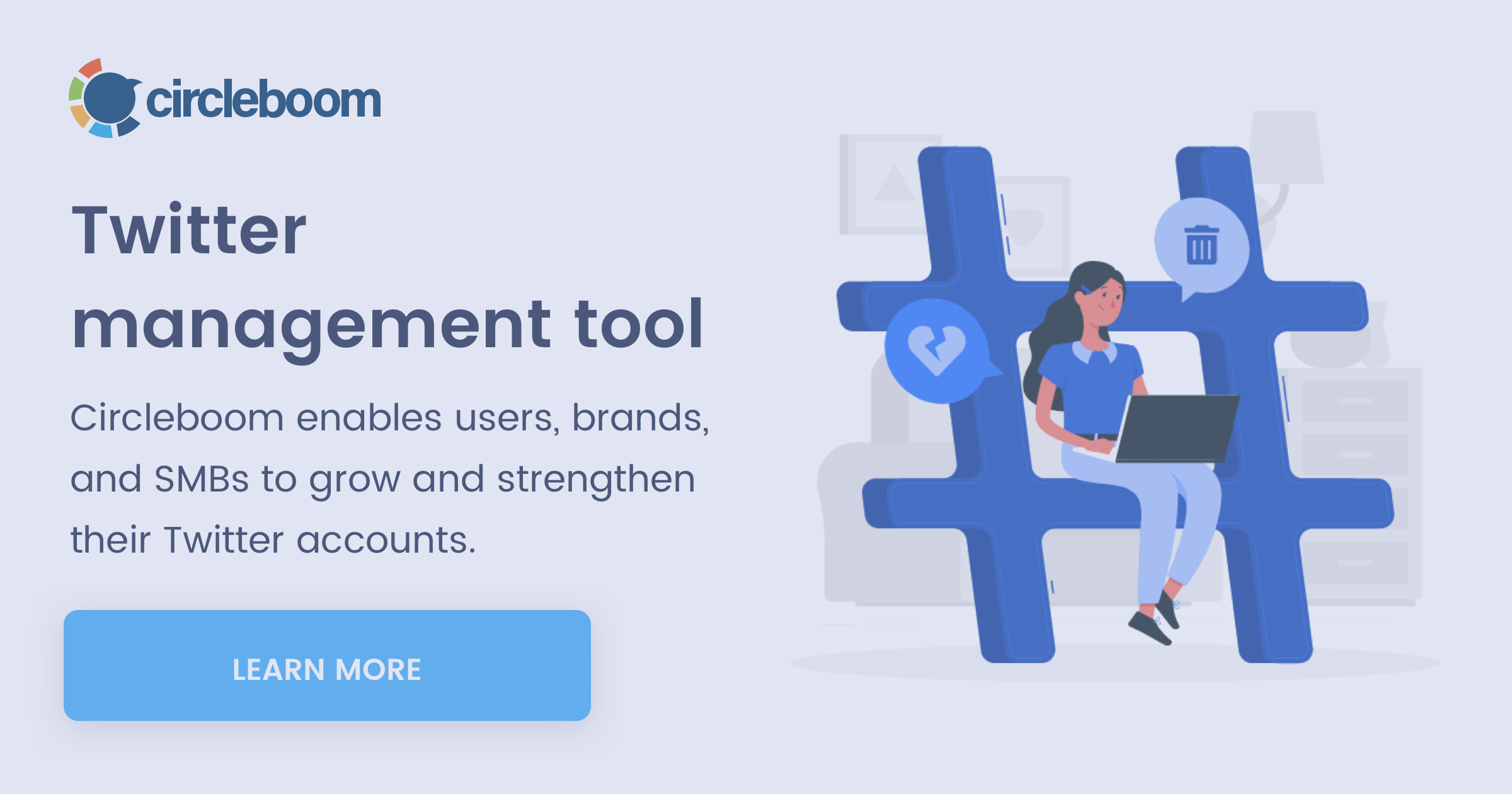 Features of CricleBoom
Automated Publishing
Automated Scheduling
Calendar Management
Multi-Account Management
Post Scheduling
Reporting/Analytics
Lead Generation Tools
Because everyone with a Twitter account can use it, this social media platform is ideal for businesses. In essence, Twitter Analytics allows you to assess and measure the success of your campaign by looking at interaction, how users interact with your account, and adjusting your marketing efforts as needed.
OptinMonster
OptinMonster assists you in engaging visitors at precisely the appropriate time. It allows you to develop gorgeous onsite marketing campaigns that include templates, a campaign builder, laser-focused targeting, and seamless website integration.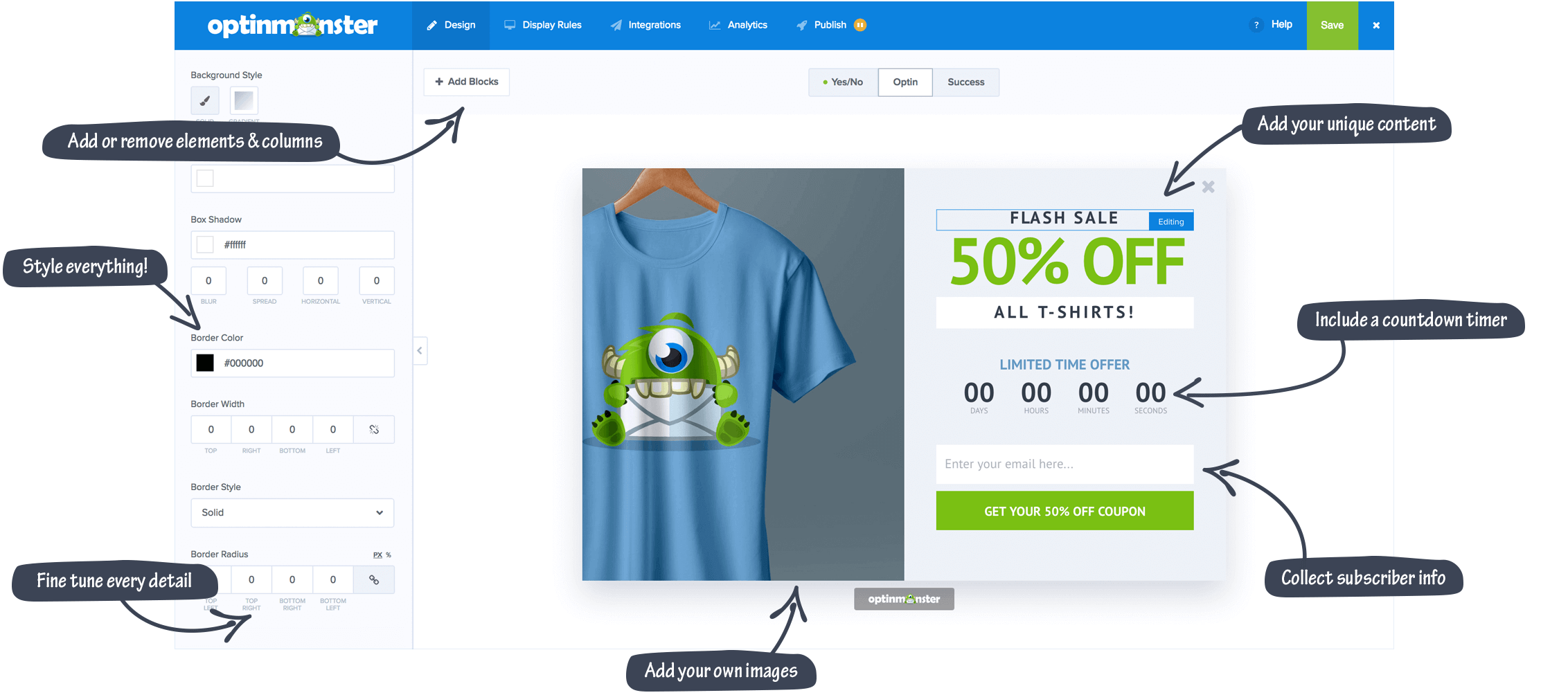 Features of OptinMonster
Convert any link or image into an optin form. Proven to boost conversions by 785%.
improve conversions by personalizing campaigns based on visitor's location.
Detects user's mouse behavior and show them a targeted message as they are leaving.
Pricing of OptinMonster
$9/month for the basic plan, $19/month for the plus version, $29/month for pro, and $49/month for grow.
Audience
Audience is a social media platform enables you to find new target groups, learn about them, segment them, and then optimise them through tracking and reporting. It also comes in the list of best community management tools as they offer Community analysis & management.
Features of Audience
Community Management and Analysis
Chatbots & Broadcasts
Advanced Monitoring & Listening
Twitter Tailored Audiences for Advertising
Pricing of Audience
Audiense provides a free version of its audience insights and twitter marketing plans, or you may pay $39 per month for the twitter marketing plan and $696 per month for the audience insights plan.
Content promotion checklist
This content promotion checklist has been designed to kick start your content distribution efforts.
Why limit yourself to just promoting your content on social media when there are 50 different strategies you can apply?
Feature of the content promotion checklist:
Template available as Google Sheet, Notion, or Excel.
50 techniques to promote your content across a variety of platforms.
A real-life example included per technique.
Lifetime access.
Pricing of the content promotion checklist
You can download the content promotion checklist for a one-off fee of $35. There is no monthly cost or renewal. It's yours to keep (and tailor) forever.
Wrapping Up!
Automated processes are monotonous, uninteresting, impersonal, and other contradicting statements have been said about them. Data, however, suggests otherwise, marketers. We are confident that automation will benefit you as well thanks to the methods and comparisons that are frequently made about it.
Make a strategy for your social media marketing, then go out and have a refreshing drink, sit back, and unwind because you'll now have more "me time."
In conclusion, social media has a significant impact on how any brand or product is marketed. You can master social media marketing if you play your cards well and use the appropriate social media management applications.